ESTIMATES

Estimates are often prepared in a variety of formats. We encourage utilizing a cost code structure (CBS), e.g., CSI master format or ASTM Uniformat. This facilitates cost comparison, bench marking and effective cost management.
We develope risk based "range" estimates combined with Monte Carlo simulations and advice on potential threats and recommended contingencies for the project.
CAPITAL COST ESTIMATE/BUDGET

In order to determine the Total Project Capital Cost including markup and soft costs, P&M utilizes the Estimate of Probable Cost calculation.
The Estimate of Probable Cost calculation is comprised of the following three sections:
Construction Bid cost which incorporates the direct costs from the engineer estimate including the contractor general conditions, overhead and profit, the amount of risk allowance (design and bid contingency) that will be carried at this stage and the escalation factors. The escalation period is calculated to the mid-point of construction from the master schedules
Construction Costs with construction contingencies to be carried during construction as a percentage of the estimated construction bid cost
Soft Cost including A&E fees, permitting, construction and project management, allocated overhead, etc. as a percentage of the construction costs with construction contingencies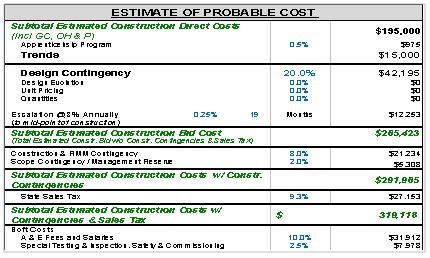 Budget
The Project Budget is derived with cost codes from the capital project cost estimate and as such is the baseline for tracking cost deviations and variances.