White Potash Storage Shed
Description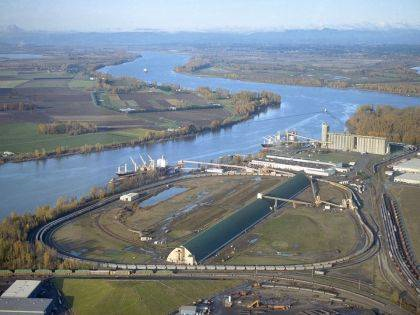 Portland Bulk Terminals, L.L.C. (Portland Bulk Terminals) is wholly owned by Canpotex and operated by SSA Pacific, Inc. Operating since 1997, this terminal is a potash bulk-handling facility located on the Columbia River system in Portland, Oregon. Portland Terminals facilitates efficient handling of specialty potash products (particularly white potash) and provides a load port alternative for Canpotex potash shipments worldwide.
Canpotex is investing approximately US$150 million as part of its overall supply chain strategy to improve the efficiency of its shiploading and rail operations, and to optimize the management of Canpotex's specialty white potash at Portland Bulk Terminals. This project will extend the life of the terminal's infrastructure and improve the facility's overall safety, health and environmental performance. This investment should also add to the efficiency of the rail transportation system in the Pacific Northwest corridor and create significant and sustainable economic and environmental benefits to the region.
Responsibilities
Collaborate with contractor staff, convert contractor's construction schedule for Microsoft Project format to Primavera (P6) format and complete and development of Baseline Schedule.
Provide monthly update of contractor's progress schedule, including collaborate with contractor's and subcontractor's staff, update schedule with actual information, prepare critical path schedule and manpower curves.
Project Duration
2015- 2017